A fund raising event and a whole night meditation sit.
Some of you may remember last year's event – somewhere in mid March 2009.  Here is a picture to remind you – and if you click on it you can see a few more.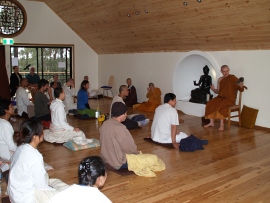 This year the Jhanathon will be held at the end of the rains retreat on the night of the 23rd of October 2010 here at Santi FM, Bundanoon.
If you would like to join up please visit the Jhanthon website for more detailed information of how to do it.
Hope to see many of you here meditating the night away…………