Update:
The ordination, which was witnessed by Santi's new Spiritual Director Ajahn Brahm, was a sweet and deeply moving event.  We feel gladdened and blessed by our lovely new samaneri.  
See photos posted in a new Santi album: https://picasaweb.google.com/santifm1.0/SamaneriOrdinationAtSanti2012
Dear Venerables, friends and supporters,
We are very happy to let you know that there will be a Samaneri ordination for Mea chee Faa (Sureeporn)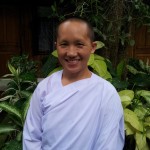 at Santi forest monastery on the afternoon of the September 3rd, 2012. Ms. Sureeporn was ordained as a Mea Chee (8-precepts-nun)  on 30 April, 2010 in Wat Rampoeng, Chiang Mai, Thailand, with  Achahn Suphan as her preceptor. Her Samaneri Ordination (novice training with 10 precepts) is approved by her former preceptor.
The ceremony will take place in Big Cave, at 1:00 pm of 3rd September 2012. All are welcome to Santi to celebrate with us in this joyous occasion.