A rare treat on Anzac Day for Bundanoon –
An invitation to hear world renowned Buddhist monk and teacher,
Ajahn Brahm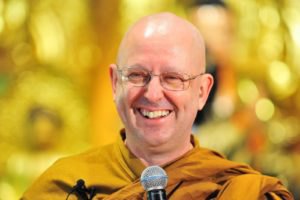 Santi Forest Monastery is pleased to announce that the Spiritual Director of Santi, AJAHN BRAHM, will give a general talk and meet with the local Community this Anzac Day (25th April) at Bundanoon Community Hall at 7 pm.
Renowned as a ground-breaking spiritual leader and a great story teller, come and hear for yourself why Ajahn Brahm's talks around the world are always packed out.
A fully ordained Buddhist monk in the Thai Forest tradition for more than 40 years, Ajahn Brahm is the Abbot of Bodhinyana Monastery, a forest monastery near Perth. He is also the Spiritual Director of Buddhist societies around the world, including Santi Monastery at Bundanoon.
Author of the best-selling Buddhist classic, OPEN THE DOOR TO YOUR HEART, Ajahn Brahm entertains and inspires wherever he goes.
All are welcome. Please join us.
(This is a free event)
A TALK FOR THE BUNDANOON COMMUNITY BY AJAHN BRAHM
WHEN: 25TH April, 2017
WHERE: Bundanoon Community Hall
TIME:   7 pm
For more information on Ajahn Brahm – website www.ajahnbrahm.org
For more information on Santi Forest Monastery – www.santifm.org
For further information on this event contact: Santi Office 2 4883 6331